HYDRAULINK SALES AWARD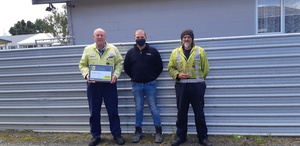 Wayne Eyles and Kristen McHaffie receiving the award from Richard Hay -Hydraulinks South Island Area Sales Manager
Greatest growth by percentage South Island 2020-2021
Great work team !
vaccination status
All staff are fully vacinated.
COVID DELTA LEVEL 2
DELTA LEVEL TWO
YOU ARE NOW ABLE TO ENTER THE PREMISES.
PLEASE SCAN IN OR SIGN THE REGISTER.
IF YOU ENTER YOU MUST WEAR A MASK.
WE ARE LOOKING FORWARD TO SEEING YOU.
COVID 19 -LEVEL FOUR
WE ARE OPEN FOR ESSENTIAL REPAIRS AND SERVICES.
PLEASE PHONE AHEAD IF POSSIBLE 03 418 1348 OR 027 223 2104
PLEASE FILL OUT THE CONTACT REGISTER OR SCAN THE QR CODE
WAIT OUTSIDE THE ROPED OFF AREA FOR SERVICE.
THANKS
THE TEAM AT HEWITTS